RMR Stainless Steel Fabrication
We are your one-stop-shop for stainless steel fabrication in Albury Wodonga. We design and manufacture high-quality products from our designs or to your specifications.
We have specialist stainless steel fabricators and you can rely on us for all your requirements. Whether you are looking for regular stainless-steel products such as exhaust canopies benchtops, kitchen equipment or decorative items.
RMR Engineering is one of the leaders in the industry and we have the experience and know-how to deliver the job on time, every time. We provide high precision, top quality, handcrafted products that are engineered for the generations.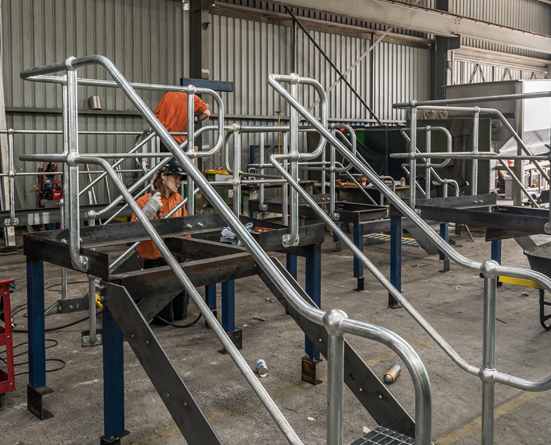 RMR Steel Platform Fabrication
Steel is an incredibly versatile material for building & construction and is widely applicable in many industrial & commercial spaces. Its strength and versatility make it perfect for a wide range of structural elements, such as steel platforms.
Steel platforms are fabricated from durable, high strength steels. The steel is cut, folded, drilled, assembled, and welded by expert fabricators and welders through the use of hand tools and the assistance of automated cutting technology.
If you're in need of a top-quality steel fabricator for a steel platform, please don't hesitate to give us a call today. Our team of steel experts will ensure that you find the best solution to suit your needs.
RMR Custom Sheet Metal Fabrication
RMR Engineering is renowned for the quality of its fabrication works and is experienced in a multitude of applications.
Our company's strong reputation in custom sheet metal fabrication in Albury stems from our ability to view any given project in its entirety and to assess where cost advantages can be gained.
No sheet metal fabrication project is beyond the scope of the team at RMR Engineering.